Fitbit out-steps Apple Watch
I pitted Fitbit against Apple Watch in a step count challenge. I wore the Fitbit Flex and the Apple Watch 1st generation 42mm stainless steal. The step count challenge started at 6am and ended around 6pm, 12 hours later. My goal was to cut the challenge off as soon as the first fitness tracker reached 10,000 steps. I wore both fitness trackers on the same arm (left). This way there could be no doubt about using one hand more than the other.
Fitbit leads right out of the gate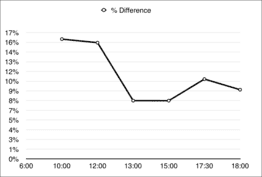 At 10am Fitbit was reading 918 steps. Apple Watch was reading 770 steps. This was effectively a 148 step difference or 16%. During the course of the day, the % difference came down. Apple Watch under-read by about 8% at the lowest point between 1pm and 3pm while walking around getting hardware for my garage wall. It felt like the more passive the activity, the more the Apple Watch "under-read" versus the Fitbit.
I'd like to believe they are counting in their own unique way. But, I did try and asses which one was more accurate by walking and watching the step counter. Unfortunately the Apple Watch did not have the functionality to watch your live step count. Fitbit dashboard did.
Intense activity seems to reduce the step count gap %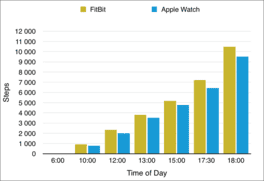 At the end of the day I wanted to get one of the fitness trackers to reach 10,000 steps. So, I went to gym to run on the treadmill. It took about 30min of running at a 10km/h pace to do roughly 3,300 steps that I needed for the Fitbit to get from 7,200 steps to 10,000 steps. I didn't know at that point what more intense activity would do to the step count difference. It seemed to have brought it down slightly. My morning was more sedentary, whereas my afternoon was filled with walking around and then the gym session at the end of the day. Distances remained very accurate between both Fitbit and Apple Watch. Perhaps aided by GPS on my Apple iPhone 7 Plus smart phone.
Sleep Tracking is about comfort
No-body wants to be restricted when sleeping at night. You want to be comfortable without disturbances. I find that wearing the Fitbit is far more comfortable than wearing the Apple Watch during a nights sleep. The main reason is the Apple Watches bulkiness which tends to "get in the way". The other things is the Apple Watch lights up when you move at night, this can become distracting and has woken me up at night.
The verdict – Apple Watch or Fitbit?
[embedyt] https://www.youtube.com/watch?v=XqgQN4-XFm0&width=770&height=433[/embedyt]When I started shooting the video on this topic, I had a suspicion but didn't know who would come out ahead. So, while I will continue to wear both my fitness tracking devices, it will be for different reasons for each. The Fitbit for it's amazing dashboard and comfort when sleeping, and my Apple Watch for all the other features including notifications. I look forward to the day when these 2 amazing companies are friends and allow more integration between each other…